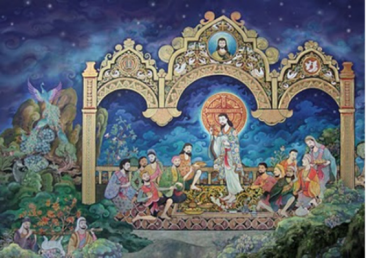 I will lift up mine eyes unto the hills,
from whence cometh my help.
My help cometh from the Lord,
which made heaven and earth.
Psalm 121:1-2
Community Life
We have been at All Nations Christian College for a while now to prepare for mission with OMF in Thailand. Community life is full of warm and convivial moments, with daily encounters, and by growing together with (also hard-working) fellow students. How happy we are to be surrounded by all kinds of people who feel called to praise and serve God.
First deadlines
We each follow the "Personal and Spiritual Formation" course, which focuses on personal development based on predetermined goals and together we are part of a growth group. In addition to participating in the week opening, the weekly service on Wednesday, we will follow "Contemporary Problems in Mission" together. These are all programs that run throughout the school year. But usually we each have our own compulsory and elective courses per trimester. In the meantime, we have been able to stress out together about the first deadlines to be met. Maybe you would like to hear what courses we took?
Jesse
Pentateuch
Deeper knowledge of the first 5 Bible books and how to interpret and apply them in a cross-cultural context.
Synoptisch Evangelies
Critical and theological in-depth study in the Synoptic Gospels (Matthew, Mark and Luke). Also discussed are: Gospel criticism, the synoptic problem and the historical Jesus.
Hermeneutiek en Homiletiek
Learning to communicate the Bible effectively, in today's society, around the world. It includes exegesis (dissecting and explaining Bible texts) and teaching relevant sermons to audiences from different backgrounds.
Katrien
Churchplanting and Discipleship
The focus is on founding and developing churches and training disciples in different cultural
and religious contexts.
Art, Culture and Identity
This course is about discovering and identifying ways in which cultural identity is expressed in artistic communication. It is looking for ways to put this into practice in a cross-cultural missionary context.
After our electives, we participated together in an intensive extra week:
Engaging Islam
It provides practical training and equipment for Christians working in a Muslim context, both at home and in other countries. Among other things, the history of Islam, Islamic theology and practice are discussed in different perspectives, the everyday and spiritual life of Muslims and Christian approaches to Muslims.
A day at All Nations Christian College (ANCC)
What does a class day actually look like for us?
Usually we are woken up around 6am (or earlier, haha) by the kids and try to get up at 6.30am-6.45am. A quick shower, a nice coffee and breakfast to leave the house at 7.45 am. Jesse then takes the children to the childminder ("aunti Louise"), while Katrien sprints through the household.
We start our day program at 8:30 am which begins with a part we have in common: devotions, growth group or a worship service. Then we have our first lesson until 10:30 am. After coffee we can go to class again for 2 hours. We have chosen to have a (warm) lunch in the main hall (1 – 2 pm) to get to know fellow students better and in that way to be part of the community on a daily basis, without being in class.
At 2 pm we will go to class again or we will study or give substance to our practical ministries (Katrien). Jesse will go back to collect the children at 3.30 pm so that we can really spend time with them from 4 pm. It is a time reserved for them that we enjoy. After eating the sandwich at 5:30 pm, it is time for a bath, -story- and then bed. Most days we can get back to work for school at 8 pm: Sometimes reading for our lessons. Sometimes football ministry (Jesse), sometimes doing assignments.
As you can see, our days are full but we enjoy it. We clearly see that God is preparing us for the work He requires of us. And fortunately, we can now also enjoy four lessons-free weeks so that, in addition to school work, we can have more time for each other and with you.
Would you like to make use of this option? We are happy to make time to (video)call you to catch up, chat or show you how God is at work in our lives.
How can you partner with us?
Home Support Team
Our Home Support Team is almost complete! Please ask God if He expects you to serve and worship Him by helping as a Fundraiser. The HST would love to welcome you in the team!
Prayer
Currently there is a prayer group in Zaandam (NL) and in Bruges (BE) because our prayer team now has 27 prayers! Do you also want to pray for us daily and occasionally attend a joint prayer moment (online option available), let us know!
We thank the Lord
For the fact that we can experience that we are in the right place at the right time.
For just being able to go to class physically and grow through interaction with fellow students.
For the good time that the children have with the childminder. They love to go and come home.
For obtaining our provisional student visas for England.
Please pray with us
For the missionaries who currently cannot (yet) return to their field of work due to COVID-19. That they may be given open doors and the necessary visas issued.
For our lesson-free weeks during the Christmas holidays: that we can really relax and have a good time with the children.
For building good friendships.
Financial support
During this period of Bible school and thorough preparation for missions in Thailand, we are completely depending on donations. We trust that God provides so that the people of southern Thailand can hear the gospel too.
Currently, 25,5% of funds for year 1 on All Nations are covered.
You can transfer a single or monthly contribution to the account number of OMF:
NL53 ABNA 0513 3911 18 in the name of the OMF Foundation with the mention "gift to OMF
for the work with the Roobol family". You can always download the commitment card from
our website.
And did you know that we also always have a wish list for practical things? Ask us about it!