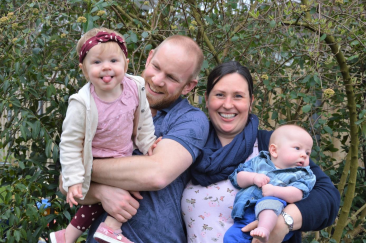 "Though the fig tree may not blossom,
Nor fruit be on the vines;
Though the labor of the olive may fail,
And the fields yield no food;
Though the flock may be cut off from the fold,
And there be no herd in the stalls—
Yet I will rejoice in the Lord,
I will joy in the God of my salvation."
(Habakuk 3:17-18)
This new year started for us spending a weekend with candidate missionaries from OMF. It was a time of meditation, reflection, and catching up on the subject "worship".
What is next?
We have been asked the above question more than usual in recent days. The answer to this question is more accurate than ever. Even in difficult times, even in Corona times, God is near. In fact, His plan for the nations, is still the same. God still wants people to hear the Gospel, and He still wants believers to obey and start sharing.nog: Zijn plan voor de toekomst, is nog steeds hetzelfde. God wil nog steeds dat anderen het Evangelie horen, en Hij wil nog steeds dat gelovigen hem gehoorzamen en dit gaan vertellen.
We are also ready to continue the plans we had. We are now registered for 2 years of Bible school, namely All Nations. In those 2 years, we both hope to acquire our bachelor's degree in Biblical and Intercultural Studies. Katrien will be studying part-time and Jesse full-time because we find it really important to be well prepared, especially if you want to serve in church planting. God willing, we will start in September 2020.
A large part of our time is therefore currently filled with practical preparations: making personal resilience assessments, making plans for our house, looking for a good childminder for the children and trying to complete our studies. We are also introduced to the board members of OMF Belgium and the Netherlands, we have constructive conversations with other missionaries, and we try to mobilize as many people around us as possible.
This unfinished task is not only up to us because we only physically go to South Thailand. Our mission is only effective if many pray, many work, many see the spiritual need in Southern Thailand and make it their personal mission, together with us!
Our mission
Please meet our neighbors Dolf (88) and Dorothy (73).
"It is an encouragement for me, as a believer, that I am not the only witness to my new husband Dolf. He was so touched by the love and care our neighbors Jesse and Katrien offered when Lies, his wife, passed away after 59 years of marriage. This makes him open to discussing the existence of God and the meaning of true grace.
That is why I believe the people in South-Thailand need missionaries as Jesse and Katrien: willing to go, to practice love and share the gospel, without ceasing.
Are you ready to support them too?"

(Dorothy)
That is exactly what we want to do in South Thailand: to make the Gospel available and tell this good news to everyone who wants to hear it. Being a witness of Jesus' love and grace, in word and deed.
How can you help?
Prayer
We thank the Lord for encouragement, possibilities and a God who gives rest.
We ask prayer for healing of the sick, for the protection of others, for the Word that can be turned into action, for our family, our ministry and our provision.
Would you like to be part of our prayer group? Please, ask us about it!
Home Support Team
Our Home Support Team is growing! Angelique and Renate would like to introduce themselves to you.
Angelique – secretary
Hi, I am Angelique Lagcher. I am married to Harry and together we have 2 sons, Jelmer (23 years old) and Elric (20 years old).
We live in Krommenie and got to know Jesse and Katrien in our church, V.E.G. in Zaandam. Next to teaching the Alpha Course, I do children's ministry with Jesse and Katrien. Harry is deacon and secretary of the church. Besides this work at the church, I also volunteer for the Europa Kinderhulp, for which I am regional coordinator. This foundation provides (since 1961) holidays for children who need it, from the Netherlands and surrounding European countries, at holiday parents' homes.
Building the Kingdom of God together is a wonderful task for all of us. Everyone can work on it in their own way, according the gifts he/she has received from God. After all, we are all equal parts of the same body and are all called to spread His Word and build God's Kingdom, whether from home or abroad. That is why I consider it a privilege to help Jesse, Katrien and their children, Hannah and Judah, on their missionary adventure.
Working with them, I can get a good look behind the scenes. I plan to support them as secretary of the Home Support Team.
Renate – TCK-advisor
Hi! My name is Renate Heeringa- de Feber. Married to Hans. Together we have two children: Thijs (7 years old) and Yenthe (5 years old). Last October we moved to Drenthe, but we still know Jesse and Katrien from when we lived in Wormer and were members of the same church. We then went to the V.E.G Zaandam, Hans was an elder there and I was in children's ministry for a good number of years.
Besides being a wife and mother, I have a bachelor's in child development, education and behavioral problems. I am honored that Jesse and Katrien asked me if I would like to be TCK advisor. I find it to be a nice challenge to give Hannah, Judah and their mom and dad extra attention and guidance during their missionary adventure, including during this preparation phase.
I will certainly be able to use my knowledge and experience as a professional, but above all I want to keep in mind what special place children may have with God, their Father.
We are still looking for people to join our home front team. Interested? Visit our website or contact us; we love to tell you more about it.
Donate
During this period (of preparation) for Bible School and for missions in Thailand, we will be completely depending on financial gifts. We trust that God provides so that the people of southern Thailand can also hear the gospel.
Currently, we have a fund coverage of 3% for year 1 on All Nations.
You can transfer a single or monthly contribution to the account number of OMF: NL53 ABNA 0513 3911 18 (Stichting OMF), referencing "gift".