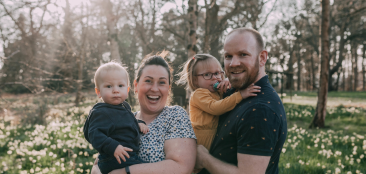 Welcome
Hello and welcome! Thank you for being here! We are Jesse and Katrien Roobol-Verschraegen from Zaandam (NL). Jesse is Dutch, studied History and was a Process Planner at TMG Media Group. Katrien is Flemish, studied (social) Nursing and Corporate Social Work. She was a Training Coordinator for the Salvation Army.
Together we have two children. Our smart and quirky girl Hannah Joy (12-07-2018) loves to play outside and read books Our cheerful boy Judah Josiah (1-11-2019) loves everything that has wheels and playing with his sister. We especially enjoy spending time together 😊
We are currently candidate missionaries for Overseas Missionary Fellowship (OMF) and we hope to be sent to Southern Thailand as missionaries. Good preparation is very important to us, especially because we want to work in church planting. That's why we are currently studying at All Nations Christian College to both get our bachelor's degrees in Intercultural and Biblical Studies. We are very enthusiastic about this opportunity and are happy to tell you about it.
Enjoy exploring and reading our website. God's richest blessing!
Mission
To make Jesus Christ known to people
in order to see restoration in people
and see God through people.
Vision
We believe it is our task to tell people about Jesus so they may recognize Him as their Savior and want to follow Him. We are convinced it is our duty not only to tell people about Jesus, but also equip them with discipleship training after salvation. We want to encourage them to grow in the Lord, and ultimately, take part in the Great Commission themselves. 2 Cor 4:1-7 is our inspiration.
Project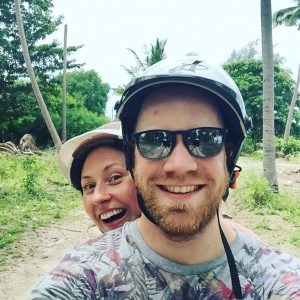 We started this journey when we were in Thailand in 2017 and had a 'calling experience' together. God showed us the spiritual need and appealed to our willingness. We wanted to find out what God wants from us.
During a vision trip (ServeAsia trip) in August / September 2019 we were introduced to various OMF projects. Our focus was on Central and Southern Thailand and we wanted to find God's will in all of this while praying. The more concrete the project is, the better we can prepare for this task.
God made it clear that we can prepare to serve in Southern Thailand and gave us examples of how we could do this in practical terms. We look forward to see what He has in store for us!
Your contribution
Fortunately, we shouldn't do this alone, and God is putting people around us who have the same purpose! For example, there is our home front team, which you will read more about, and there are prayer partners who pray for us daily.
Do you feel called to work for the unreached people in Southern Thailand?
Become a partner of Jesse and Katrien by praying for them or supporting them financially. For more information, go to the Donate page.