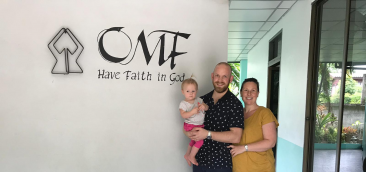 Update vision-trip – 08/27/2019
It is a blessing to be able to experience that so many people sympathize and pray with us! Thank you for all the encouragement you are sending us. We also look back gratefully on the blessing we received from our church on the Sunday before we left.
If all went well, we are in Thailand now. We flew out on August 24th to arrive in Bangkok the next day. There we are getting acquainted with the management of OMF Thailand and some of their projects in the area. From Bangkok we travel 2 hours north to visit the OMF language and cultural training center. We are meeting the manager and linguistic advisor and will catch up with another Dutch family that is currently staying there.
From there we fly to Nakhon Si Thammarat to meet the OMF South Thailand team and their current project for a week. After this week, Jesse will go further south for 3 days to get to know a different organization that works with in southern Thailand and Malaysia.
Jesse is going by himself because there are travel warnings for that region.
After these busy weeks, we will go to "The Pines". That is a guest house for missionaries in Central Thailand. They are currently looking for a new long term management couple. It is a ministry that appealed to both of us, because we think it would be a nice opportunity to get to know the surroundings and the culture well before actually starting church planting. It gives us the feeling that we can really be of service, also in a different way on the mission field, while we start our own project. We also hope to have some time there for good reflection on the vision trip before putting our feet safely back on Dutch soil on September 16th.
In addition to this exploratory trip to Thailand, Jesse is also going to England the last weekend of October to visit the Bible school (and their open day) that we will likely attend for school year 2020-2021. It is an accredited international school that trains in Bible and intercultural studies. More (English) information can be found at: https://www.allnations.ac.uk/.
Quite a lot on the schedule before we can welcome baby boy Roobol in November; we look forward to it! But a lot has happened in the meantime: we have a general e-mail address – roobols.tothailand@gmail.com – where you can ask your questions and send encouragement; thanks to Eldad (Jesse's brother) our website is in full development.
If you are considering becoming a prayer partner (instead of praying friend), you can also contact us through our email address. The prayer partners receive more (confidential) information to pray for and preferably come together once every 4-6 weeks to pray for us. We are still looking for a prayer coordinator for this group (Noord-Holland region, but preferably from the VEG). Several people are praying to fill this position for the Brussels-Namur-Leuven region and the West-Flanders region, a core group in Zaandam would make this perfect! It is very beautiful to see how God has touched hearts for this.
In addition to a prayer coordinator, there are many other options to help out in our Home Front Team. Would you like more information about the position as confidant, treasurer, secretary, encourager for our children, or chairman of the team? We are happy to tell you more about it!
In the meantime, we are often asked whether people can contribute financially to our process. Since we are saving for the Bible School, any contributions are welcome. At this time you can contribute financially by transferring to NL83 RABO 0314 6521 08 in the name of Roobol-Verschraegen with the reference "mission." Starting at the end of September there will be an OMF account number because they are ANBI registered. We trust that the Lord will provide for all our needs!
Will you join this journey with us?
Praise the Lord, for He is good!
For guidance from OMF teams in different countries
For encouragement from other Christians, also from the church
For people who have chosen to help us in the long term
Prayer requests:
For Thailand and their people: that they may get to know Jesus as their Savior
For the missionaries already present in Thailand: that they may be encouraged by your prayers and our visit
For protection, both physically and mentally; for Katrien's pregnancy, for safety during the trip, for a happy Hannah
For clear open and closed doors
For prayer partners and other people who want to commit to our Home Front Team
Thank you for all prayer and other support! See you soon!
Jesse, Katrien, Hannah and Baby Boy Roobol